How to Plan a Company Event Everyone Will Rave About
The time has come and you are pulling out your list of event contacts and ideas – it is time to plan a company event! There are a number of company events that take place throughout the year: employee education events, leadership summits, team building occasions, corporate Christmas parties, or a celebration of the wonderful things your business has achieved! Whatever the occasion is, you have probably already started brainstorming the venue and theme that you would like to feature, but how are you going to take your event above and beyond? What will make this event better than the rest and become something that your attendees will rave about? We have the answer in one word: Details! It is the little things that add up to a surmountable experience and that will have an enormous effect on your organization. Want to know more? Take a look at how to plan a company event that everyone will rave about!
Why This Event?
This is the MOST IMPORTANT aspect of creating a company event that everyone will rave about. It is easy to jump right into looking at the décor, developing a fun theme, hiring a great speaker, etc. But often the biggest piece that gets lost is 'why?' WHY are you having this event? To determine this, you can ask yourself the following questions:
What are your objectives of the event?
How are the activities that you are doing helping you meet your objectives?
Does your location assist or take away from what you hope to achieve?
Think old-school, what are your S.M.A.R.T. goals?
If you want to bring about change, is that something you can measure? How?
Team building is one of the easiest examples to look at with objectives. If all that your team needs is a fun gathering, then go ahead and set up an evening of laser tag! But if you need to affect CHANGE, then you should dig deeper into the purpose of your event, and budget accordingly.
For example, Details! highly recommends Learn2's 'Save the Titanic' team building event. It is perfect to get the teams thinking about how to work together and also allows teams to look closely at how they are communicating with one another. This isn't your typical teambuilding and can inspire lasting change.
An Event Venue That Exceeds Expectations
Want to take your company event a step further? Of course, you can book an event venue with the most extravagant services and gorgeous interiors, but instead of spending most of your budget on the venue, why not instead search for a unique event venue that is within your budget? Sometimes finding something as simple as a rustic barn just outside the city could be the perfect locale for a summer team-building event (Survivor challenges anyone?). Alternatively, seek out a location that will stand out in people's minds – look for out-of-city venues with natural views and breathtaking scenery that will make the longevity of training sessions worth it! Find historic locations, zoos, or technologically advanced spaces to entertain and 'wow' your employees.
Remember, that whatever venue you select, consider its location. Your guests should have a manageable solution that will get them to and from the venue. Offer taxi chits, transportation buses, or overnight accommodations (or discounts) so that your guests are inclined to get there and back easily!
Planning Food (and Drink) for the People
As we have mentioned in our previous blog, discussing the food selections and specifications with your caterer/venue PRIOR to the event will make an incredible difference. Often times, it is the little things that go wrong that people will remember. There is a psychologic phenomenon called the 'negativity bias' that explains why this happens. Our brains are wired to focus more on the negative experiences and emotions, remembering them for future dates so that we can change our behaviour and actions to protect ourselves. So, for example, if you forget to order gluten-free snacks for your guests, the gluten free employee who is left hungry will remember this for any future company events. And how much do you want to bet that they will have a negative view of any future company events?
Plan ahead with your venue to ensure that you can offer the necessary foods and drinks that will please the people, as well as ensuring that your food and beverage coordinate well with the type of event. Guarantee there will be diet-specific options available including gluten-free, vegan, keto, dairy-free, and others. When the guests know that their food and drink experiences are taken care of, they will be able to enjoy themselves!
NOTE: Want to ensure you don't miss a dietary restriction? When you send out the invitations to your employees, have a section on the RSVP where they must identify whether they have any dietary concerns or special requests! This will save you time, cost, and trouble later on!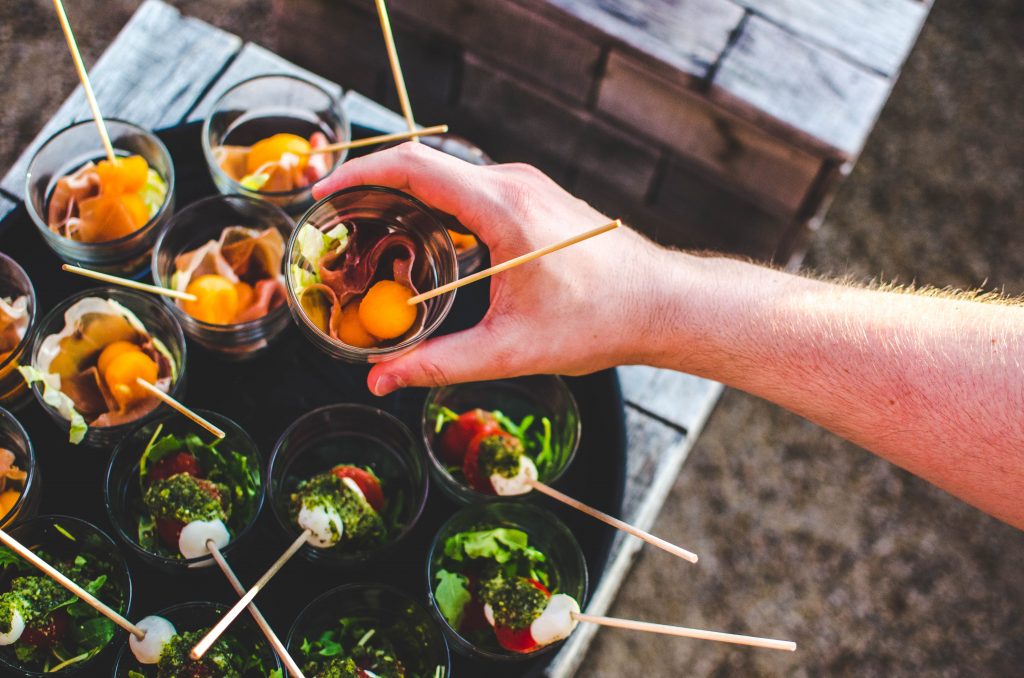 Light it Up! 
Lighting, lighting, lighting… it is so important! Surprisingly, a large number of event organizers forget to invest in proper lighting for their venue. At the very least you want to be able to SEE the speakers on the stage! Although it may not seem like an important thing to focus on, having up-lighting, rustic or distinctive light fixtures, backlit presentation screens, colour wash lighting, and light-up dance floors can drastically improve the experience. By adding colour and light to your space, you even have the opportunity to take a more affordable venue and transform it into a more customized strategic space.
Invite a Special Guest and Entertainment
In the Pulse Report by Eventbrite for the 2018 Event Industry Trends, it was found that 32% of the company event budget was spent on speakers and talent. Having a special guest at your occasion is a great way to 'wow' your guests and get them talking up the event. Announce a special guest or speaker that will kick off or wrap up your event: comedians, popular local singer, illusionist, famous jazz bands, innovative speakers, etc.
Keep in mind that your entertainment should accentuate the planned experience that you are offering and should be in line with your event's purpose. Is your goal to create an evening of fun and relaxation for your hard-working staff? Give them entertainment with a comedian, hit DJ, or illusionist to bewilder and excite them! If your goal is to inform and educate your employees, call upon a keynote speaker who will inspire them on the topic of your choice (ex. teamwork, innovation, upcoming technology, empowerment, etc.). Introducing something 'rare' and exciting to the company event will leave a lasting impression and give guests lots to look at, listen to, and engage with!
Go Above and Beyond to Make it Memorable!
You can use trendy décor, flashy lighting, and have a menu that is drool-worthy, but it's when you take things above and beyond that the event truly becomes a success! Take a moment to consider your guests/employees – what is it that they expect to get out of the event? What would make their experience more enjoyable or comfortable? Are there things you could provide that would make the event-going experience easier on them? Take some time to brainstorm ideas and create a list of things that would impress. Some of the examples we have seen of company events that had 'wow-factor' features include:
Green eco-friendly event (no plastic, reusable items, bike power for electronics, etc.)
Closed captioning
Phone charging stations (for day-long events)
Personalized cocktail bartender (crafting drinks unique for each person)
Paid and organized transportation for all guests
A feature wall for taking photos
Hiring a professional photographer
A photobooth with branded photos
Interactive food stations (sushi station with chef's creations or dessert charcuterie station)
Sending a thank you within the week after the event (share best event photos too!)
Now that you know where to begin, what to look into, and what details you should NOT miss out on, you are all set to create a company event that you will be remembered for years to come! Good luck!
Feeling a little woozy at the thought of doing it all on your own? Why not send us a note and let us assist with the management, organization, and execution of the event so that it carries on as flawlessly as possible! We can't wait to get you started!