Managing an Event Contract in a Time of Crisis – COVID-19
'Our world is in uncharted times' – a phrase we are hearing over and over.
Some event planners have experience with emergencies like SARS or 9-11, but this takes those experiences and amplifies them. It is now that we are seeing how the event industry has perhaps forgotten that the unexpected CAN, and DOES happen. It is situations like this that come out of left field and leave event managers, planners, and organizers wondering "who could have EVER seen that coming?" What we fall back on is the event contract. And right now, we are all either thinking "This is a great event contract and I'm protected!" or "Oh crap… where is the clause that protects me in this scenario?"
Now is not the time to realize that the closest thing to a force majeure clause is a holdover from 9-11 where air travel was the only disruption. With the current COVID-19, there is much more we need to consider besides flights, as we look ahead and hope our event contract covers us in this time of crisis. Not sure what to look for? Take a look at the importance of the event contract, review the pieces you may have forgotten, and understand how to move forward!
The Event Contract
Where the event industry fails is how we teach event contracts. Our owner, Niesa Silzer, taught event management courses and found it was difficult to have 'contracts' included in the curriculum. Alternatively, they taught how to create a contract for yourself, but not how to read one that is over 32-pages to make sure it has the clauses to protect your event. When searching online, you'll find articles that infer "yeah, you need a force majeure clause but they rarely come into play." With this in mind, event planners may ignore those clauses and live to regret it when we are actually in the situation of event cancellations and other crisis management situations. Have some time on your hands while self-isolating and social distancing? Now is the perfect time to brush up on those event contract skills.
(FULL DISCLAIMER: We are not lawyers and are not offering any legal advice. The best suggestion is to review the contracts to the best of your ability and then take it to a lawyer!)
Words Matter in Your Event Contract
 One of the best pieces of advice for event managers is to watch out for words in the contract that are in the supplier's favour. These will be words that ensure that the supplier benefits and do not offer any favor to your client or your event. For example, change "will" to "may" so that you aren't automatically agreeing that something WILL cause harm, but that it MAY cause harm.
Understanding Force Majeure
'Force majeure' clauses cover your liability due to unforeseen acts such as hurricanes, floods, terrorism, etc. But what can be tricky is what your clause SPECIFICALLY identifies. Does it include acts of government like what we are facing with the coronavirus prevention approach? As discussed in an article by Joshua L. Grimes in, look for words in your clause such as:
Impossible
Illegal
Commercially impracticable
Inadvisable
Do you know the difference between them all? Watch out for subjective terms that could set you up for a dispute if you ended up arguing over what they mean. The clause allows you to be very specific with what is included and isn't included, but you also want to be broad enough to cover things that we aren't thinking of (such as a worldwide pandemic). Remember, just because your contract may not include a force majeure clause, it doesn't mean that you are without legal options (this is where you need to reach out to your legal supports).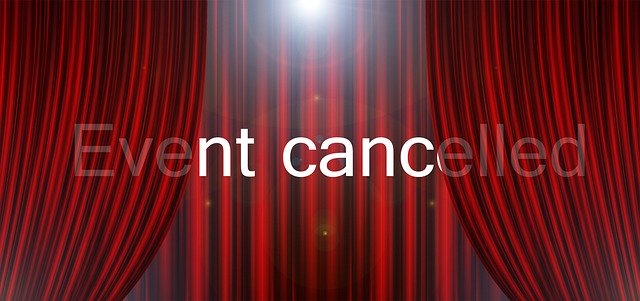 Event Cancellation & Event Postponement 
Build up your cancellation clauses so they protect you. This is CRITICAL! And yes, you should have a cancellation clause! If your contract has specific numbers such as $74,239 be sure you know exactly how that number was determined (ask for this to be spelled out in the contract), so that you can be fully prepared. We have had instances where we checked the math before and found it to be incorrect!  When building up your event cancellation or event postponement clauses, the other elements to consider include:
Is there a sliding scale so that event cancellation charges change depending on how close you are to the actual date of the event?
If the event can change dates, can some or all of the cancellation charges be put towards new dates?
Is there a part performance element or options to reduce your commitments? (This seems like it could also be a holdover from previous days when you could still hold your meeting, but only some of your attendees could get there. That would allow you to reduce your guest rooms and food and beverage spending without cancelling your event.)
Is there a way to get credit if the hotel is able to resell the meeting space or guest rooms?
Is the situation included in your clause of the hotel closing or the event on the group cancelling?
Grimes also writes in his article that when it comes time to reevaluate holding events and meetings with the Coronavirus outbreak, that it is necessary to consider all of the options. He states, "some groups are able to negotiate a reduced-size meeting; others that cannot meet now have agreed to postpone their meeting for several months, with cancellation damages waived in whole or in part so long as the rescheduled event goes forward." But as he also states, "…this is an evolving situation." With what is happening currently, remember that we haven't been through anything like this, so being open to discussions are essential to moving forward.
Attrition Clauses
Attrition clauses determine how many hotel rooms (or a percentage of) that must be used in order to avoid paying a penalty. An example may be that you've agreed to take 100 guest rooms in total and your contract states that you agree to take 80% of those. Ask for a formula to determine your attrition so that you are obligated to a number if things change along the way. One other thing we always like to remind people planning events is to not accept a standard attrition clause without boosting it up for further protection. Some ideas include:
Reduce the % of rooms you are required to pick
(Can you negotiate it to be fewer?)
Have the contract state that any additional rooms you are required to pay for are at the rate for a single room
(So you aren't paying for suites that aren't booked)
Include all pre and post stays, cancellation fees and staff rooms in the number of rooms that are calculated for your pick up
Clarify if the pick-up is based on a day or cumulative
(This way you don't pick up all the rooms on Monday, but take more than originally requested on Tuesday – are you meeting your agreement?)
Make sure that if the hotel sells out, you aren't on the hook for rooms that they've re-sold
(Meaning that your group didn't take all the guest rooms you thought you would, but the hotel sold them to other people. It's like you paid for a glass of milk, but didn't drink it and then the hotel sold the glass of milk to someone else who also paid for it.)
Look for dates that you might be able to change your attrition clauses
(Especially in times of uncertainty, we never really know how many people will come to the events. Can you negotiate times when you can re-visit your numbers and potentially change this clause?)
Facility Unavailability
Does your event require the use of multiple facilities? For example, what if you are booked at a convention centre and for some reason it cannot hold your event any more (whether due to COVID-19 restrictions, disaster, or other crises)? A current example would be if a city closed a city-owned convention centre but the hotels nearby stayed open for business. You want an event contract clause that would give you the option to cancel the hotel contract if the other facilities necessary for your event are unable to host. Not all clauses include this, so be sure to verify!