10 Best Virtual Events to Boost Team Bonding/Morale
It has been found that working online can lead to burnout and spurs loneliness since you are no longer engaging with others face-to-face. Simply plugging away at work tasks and communicating via email may be effective to get tasks done, but it can too easily lead to a sense of distance and feeling out of touch with the team. So, when your team is restricted to bonding online, avoid just the typical Zoom call 'catch up,' and instead get creative! Your virtual events don't have to be boring and there is plenty you can do to boost morale!
There are so many wonderful and unique opportunities for you to engage online with your team that will improve team spirit and create a greater sense of camaraderie! Find the best time to change it up from the workday and seek out those enjoyable and DIGITALLY interactive events to improve morale, boost team bonding, and even increase productivity! Here are the 10 best virtual events to boost team bonding and morale!
1. Happy Hour Virtual Event
Has the week been a long one? Does your team deserve a well-earned break? Instead of everyone ending the week by going off in their own directions, host a virtual happy hour to all come together and celebrate your accomplishments! Set a time that your team should log on and tell them to bring the beverage of their choice to sip on while chatting. If you are the moderator or the team leader, be sure to have some ice-breaker questions in your back-pocket just in case people aren't feeling chatty! By having a number of questions or conversation topics ready, you can reduce the awkward radio silences.
Bonus: Want to make happy hour more engaging? Challenge each of your team members to come up with a cocktail they want to create, and then have them present it and make the drink online to teach everyone else how it's done!
2. Casual Fridays become Themed Meetings
Who says that your average weekly meeting has to be 'zoom-casual'? When your meetings have been brought online, the spontaneous conversations in the hallway, the in-between coffee runs,  the water cooler jokes, and 'casual fridays' all disappear. Because virtual platforms like Zoom do not allow multiple conversations to happen at once, you need to take action to bring that bonding and fun to your work through other methods – themed meetings! Simply having a theme will relax the mood and bring a laugh! Some fun themed meetings include:
Hawaiian Luau
Stampede
Tea Party
Outer Space
Roaring 20's
Show and Tell
Great Gatsby
Harry Potter
Under the Sea
Masquerade
70's
Where's Waldo
These themed meetings can include dress-codes, themed games, or you can even try and play with the backgrounds on your virtual events platforms to make the meeting more exciting! Get creative – the world is your oyster!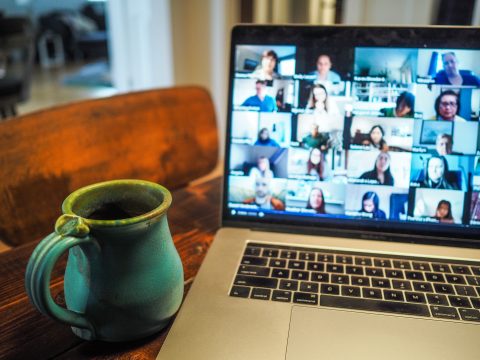 3. Trivia Nights
What could be better to boost team morale than a good and competitive game of trivia! This is one of the easiest events to host online and allows for your teams to collaborate, and put their minds together in order to claim the prize! Who wouldn't want locally-made cupcakes delivered to their door for free or to win an afternoon off?
4. Weekly Team Competitions
One of the best ways to engage your teams, get them outside, and have them interacting with others on your team is to hold weekly competitions. Start by breaking your larger team into smaller groupings, then have those teams make a team name, create a team logo. From there you will set them upon weekly tasks to accomplish.
Through the use of online virtual events (via Zoom, Google Teams, etc.), teams can come together to collaborate and engage with one another to organize their plan of attack to accomplish the mission! These can include scavenger hunts (with photos), Taskmaster challenges (check out the home edition #hometasking on YouTube for ideas!), step counting competitions (keep them moving!), or photo competitions! Consider yourself Phil Keoghan from Amazing Race, and come up with unique, fun, and engaging weekly tasks that each team must accomplish. The team at the end of the month with the most wins, gets the prize!
5. Murder Mystery Virtual Event
Can your team figure out 'who-dunnit?' Will you catch the murderer in time? Murder Mystery games are a classic event that are enjoyed by all! Not only does it give your employees a chance to work together to solve the crime, but it gives them an opportunity to let loose and become a new character for a time. There are plenty of online (or physical board games) murder mystery games that you can purchase and follow along with digitally. Simply send out the required information beforehand, schedule a team meet, and then the game is afoot!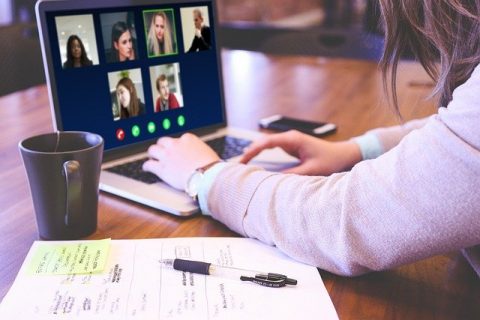 6. 'Bring a Friend' Meeting
You are seeing the same faces on your screen each and every day. Why not create virtual events where you can get to know the others who may be making those strange noises in the background? Host a 'bring a friend' meeting and ask your employees to bring their co-host for the day. This 'friend' will help to run a portion of the meeting! Who do they bring? They could introduce a pet (the cuter the better!), a newborn, a kid, or perhaps a significant other! Introduce your friends and watch as the engagement increases – this will especially work if there are any new puppies on the team!
7. Cooking Class Virtual Event
Do you have someone on your team who is a whiz in the kitchen? Perhaps one of your members makes incredible food from their culture! Time to get into the kitchen and create something special! Through the use of a virtual event room, select a team member who will teach the team how to make a specialty dish and learn to cook it alongside them! Designate a lead chef for the event and have that individual send out an ingredient and item list prior to the event. Then when the day arrives, everyone will log-on and follow along in their kitchens to create their own version of the dish with helpful instructions from the lead chef! This team bonding event offers leadership opportunities for team members, as well as teaches your team how to take direction and follow their instructions! A fun and interactive (as well as delicious) way to engage the group!
Bonus: Don't have a chef in the team? Reach out to a local cooking class to see if they will help or follow along with a Masterclass from Gordon Ramsay himself.
8. Get to Know Your Team – Guessing Game
Your team spends hours together each day, but how well do they actually know one another? Of the many virtual events that you can use to improve team bonding, why not host a 'Get to Know Your Team' game. How this works is that you will send out a list of questions to everyone asking them about various aspects of their lives, histories, favourite things, fun facts, and even get them to send a few photos (baby photo guessing anyone?)! Then once you have collected everyone's answers, create a list of questions and test to see if your team knows which member fits the description!
9. Virtual Escape Rooms
One of the most common ways to gather with your team and bond before quarantine was with escape rooms. These puzzle rooms offered a way to learn to work with one another, problem solve, while also having fun. But if you are limited to where you can go (due to a pandemic or your team being in various locations), then there is still a VIRTUAL escape room option! There are various companies who offer these unique escape room experiences that can be done from the comfort of your home. How does this work? Through the use of a video conferencing, you will be organized into teams and be given clues and images/videos throughout your adventure, and using shared screens must figure out how to escape!
Here are a few family friendly ones to get you started: https://calgary.family/10-digital-family-friendly-escape-rooms-you-can-do-with-your-kids-right-now/
10. Tasting (Virtual) Events
For those workplaces who have smaller teams, set out to do something exclusive and tasty while engaging with one another. If you are all in the same local area, decide upon something that you would be interested in tasting – wine, beer, spirits, cheese, coffee, tea, chocolate, etc. – and then have a sampler set or taster pack sent to each team member's door! Select a time where you will all sit down and do a tasting to discuss what you taste, the mouth-feel, which you prefer, and experience the overall flavours of new products! This is also a great way to support local businesses, try original and exciting products, as well as engage with your team in a unique and educational way.
Bonus: Not sure who offers tasting packs for delivery? Reach out to local restaurants, catering companies, bakeries, and breweries to find out if they would customize a unique set of orders for your company!
Use these virtual events to enhance the experiences had by your team! Together you can explore, compete, taste, learn, and communicate with each other in a way that will enhance your team's bond while also improving overall workplace morale. Get creative, have fun, and make your virtual events ones to remember!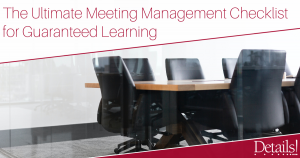 If you were to ask those in your company what the purpose of your meetings were, they may not always have an answer for you. The problem is that many of the meetings held within corporations and small businesses can be seen as a 'waste of time and resources', and often leave attendees 'wishing it was an email'.  Here's your meeting planning and management checklist to ensure that every meeting is worth everyone's time and effort!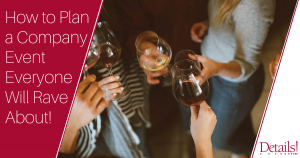 What will make this event better than the rest and become something that your attendees will rave about? We have the answer in one word: Details! It is the little things that add up to a surmountable experience and that will have an enormous effect on your organization. Want to know more? Take a look at how to plan a company event that everyone will rave about!